Back Injury Caused by Improper Lifting - Can Chiropractic Help?
Back Injury Caused by Improper Lifting - Can Chiropractic Help?
Written By Belleview Spine and Wellness on October 5, 2020
---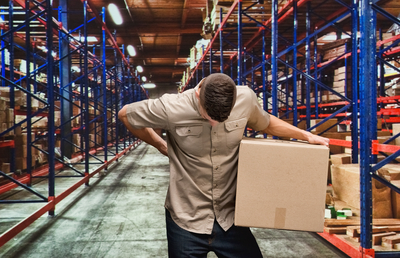 It's that time of year – time to get out in the sunshine and do some work around the house.
From painting your house and staining your deck to mowing the lawn and harvesting crops from your vegetable garden, this is a busy time of year. It's also the time when chiropractors see an increase in back injuries.
Thankfully, your chiropractor can provide back injury treatment to reduce pain fast.
Summertime Back Injury – Why so Rampant?
During the spring and summer, many take advantage of the longer days. Suddenly increasing the level, type, or amount of physical activity you engage in can cause muscle strain and low back injuries.
Additionally, yardwork (weeding, digging, planting, etc.) tends to be repetitive, leading to an even higher risk of a back injury.
Add to that the fact that many people don't incorporate proper techniques and posture when bending and lifting, and it's no wonder that back injuries in Colorado Springs and Greenwood Village are so common.
3 Ways Your Greenwood Village and Colorado Springs Chiropractor Can Help
Thankfully, your chiropractor can not only help you get out of pain, but they can also help you prevent a back injury in three ways.
1. Maintain Proper Spinal Alignment
Regular chiropractic adjustments ensure that the spine is in proper alignment, reducing your risk of injury and muscle strain.
2. Exercise and Ergonomic Recommendations
To help you stay healthy, strong, and pain-free, your chiropractor will provide you with suggestions about proper posture and ergonomics. They'll also recommend certain activities – like strength training – to strengthen and protect your core muscles.
3. Post-Injury Care
Spinal adjustments and decompression therapy (taking pressure off of the spine) can reduce pain and help you heal faster.
Chiropractic Care Is a Must for an Active Lifestyle
Know one knows the benefits of living an active lifestyle quite as much as Dr. Donald W. Gibson, D.C., a former lineman with the Denver Broncos. He also understands the pain of a back injury, and he wants to help you avoid such an injury if possible. If it's not, he wants to help you get out of pain fast. With regular chiropractic care, you can keep working hard and having fun outdoors.
Are you feeling the pain and strain of yard work? We can help! Contact us today at 303-771-3102 (Greenwood Village) or 719-247-8441 (Colorado Springs) to schedule an appointment.

Posted In: Back Pain Treatment Chiropractic