Back Pain Stretches to Relieve Pain from Your Couch
Back Pain Stretches to Relieve Pain from Your Couch
Written By Belleview Spine and Wellness on April 17, 2020
---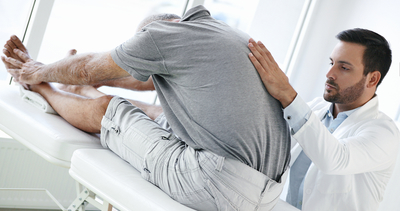 With a stay at home order, a lot of people are spending quality time on their couch.
While having some Netflix and chill days is fun, it can eventually wreak havoc on your back. Thankfully, there are some back pain stretches your Greenwood Village chiropractor can recommend to help ease your pain.
3 Back Pain Stretches – Relieve Pain from Too Much Time on the Couch
Sick and tired of dealing with discomfort throughout your back? Here are some back pain stretches that will have you feeling like your old self again.
1. The Spinal Twist
Lay on your back on the floor, legs straight out in front of you, arms out to the sides. Gently bend your left leg and bring it toward your stomach. Twist your spine so that the bent leg goes toward the floor on your left side. Twist to the point where you feel a comfortable stretch. Hold for 20-30 seconds. Gently return your leg to the original position. Repeat with the opposite leg.
2. Child's Pose
Kneel on the floor, making sure your inner-most toes are touching. Spread your knees while keeping your feet touching, and rest your glutes on your heels. Then, you'll want to sit up straight momentarily, before bowing forward and resting your torso on your thighs. Bring your forehead to the floor, and stretch your arms straight forward, out in front of you. Hold the pose for a minute or two.
3. Cat-Cow Stretch
Get down on the floor on your hands and knees. Arch your back and hold for a few seconds. Then, raise your head, and bring your pelvis forward, curving your spine. Hold for 5-10 seconds. Repeat 15-20 times.
Fitness and Nutrition Guidance from Belleview Spine and Wellness
Your healthcare team at Belleview Spine and Wellness wants to help you look good and feel great. One of the best ways to do that is through better nutrition and more movement.
Not sure where to start? Don't worry – there's a lot of information out there, and it can be hard to know which course is best. When you visit your Greenwood Village chiropractors and doctors, they'll create a custom wellness plan that fits your unique needs.
Ready to start your health and wellness journey? Contact our Greenwood Village office at 303-771-3102 to schedule a consultation.

Posted In: Back Pain Treatment Chiropractic Back Pain Stretches