Why Non-Surgical Spinal Decompression Is a Great Option for Pain Relief
Why Non-Surgical Spinal Decompression Is a Great Option for Pain Relief
Written By Belleview Spine and Wellness on July 13, 2021
---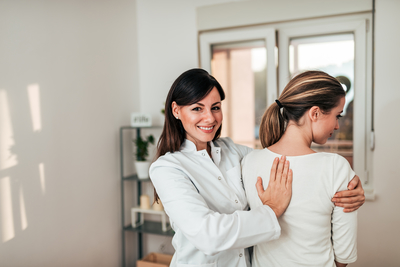 The primary goal of non-surgical spinal decompression is to create space between discs, which addresses the root cause of many forms of back pain. This form of care blows surgery out of the water, which is why we implement it at Belleview Spine and Wellness in Colorado Springs & Greenwood Village.
We implement the ADP 400, spinal decompression technology that's backed by research and used worldwide. Here's how non-surgical spinal decompression works and what it's used for…
How Non-Surgical Spinal Decompression Works
During a session, you're laid on a computer-controlled table and have up to several harnesses strapped to you, depending on what kind of pain relief you need. All you have to do is relax while the computer guides the table through steps that gently decompress your spine over the course of 15-20 minutes.
Decompressing your spine can provide immediate pain relief by taking pressure off of compressed nerves and making room for discs to retract back to the correct position. Compressed nerves trigger pain and inflammation. Giving them room to function properly helps them function correctly and quell inflammation.
Bulging and herniated discs can also compress nerves, and the latter leaks hyaluronic acid, which stings. Decompression allows dics to receive nutrients and lubricating fluids, which promotes healing and restores range of motion.
Blood flow is a huge part of decompression. The spine doesn't get a lot of blood flow in the first place and get less when it's compressed. This can lead to a cascade effect of pain, degeneration and related disease. Decompression stops the vicious cycle and helps your body heal, thus get out of pain.
Common Conditions Non-Surgical Spinal Decompression Is Used For
Bulging/Herniated Discs

Compressed Nerves

Disc Degeneration

Facet Syndrome

Sciatica Pain

Spinal Stenosis

Failed Back Surgery
The list goes on. We evaluate each patient to determine whether or not you make a good candidate for this form of care. If it's not the right treatment option, we have other chiropractic methods to help you get out pain. However, if it's an option, we'll walk you through the process and get you started.
TThe number of sessions needed and your specific treatment plan will be determined by Dr. Gibson & Dr. Voelkert after your examination. In almost all cases, the treatments are completely painless. Your sessions will be monitored beginning to end for your safety and benefit.
Get Spinal Decompression Therapy in Greenwood Village
Belleview Spine and Wellness touts a strong team of chiropractors with a variety of medical tools at our disposal. We have excellent medical professionals, like Dr. Donald W. Gibson, a former Denver Broncos lineman who was a team chiropractor for the Anaheim Ducks before switching to a chiropractic clinic. Our clinic also utilizes nurse practitioners, a medical doctor, an x-ray technician, and a host of friendly staff.
Have questions or want to schedule an appointment? Call us at (303) 771-3102 or go online and fill out our contact form. You can also visit our website and click on the "Book Online" popup to schedule an appointment in seconds. We look forward to serving you!

Posted In: Back Pain Treatment Chiropractic Spinal Decompression